Sharepoint Hosting Services in India
---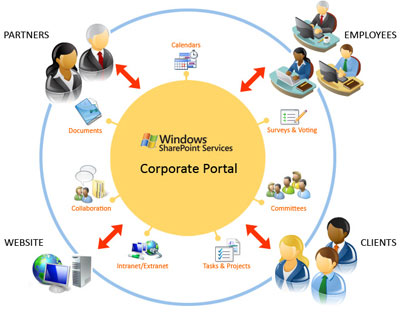 Trijit improves your business communication with SharePoint Foundation Services
Microsoft SharePoint Foundation Services is a new versatile technology that companies of all sizes can use to increase the efficiency of business processes and improve team productivity.
Employee access and collaboration
Seamless teamwork
Increased flexibility for your workforce
Trijit provides SharePoint hosting Services India where SharePoint foundation is the next version of Windows SharePoint Services and gives people access to information they need by using tools for collaboration that help people stay connected across organizational and geographic boundaries. As well as providing a shared SharePoint Foundation Services, we can also provide your company with SharePoint Server shared or dedicated server solutions. We can tailor a package to suit your requirements and your pocket, where services looks is more flexible with us
Trijit delivers a several featured plans for hosted Microsoft SharePoint server which make easy to connect and communicate with other employees or customers of your business through your application.
Hosted Sharepoint Server Plans
Professional
No. of Users


30

---

Monthly Data Transfer


100GB

---

Disk Space


5GB

---

Full Text Indexing


Included

---

.Net Framework 3.5


Included

---

Browser Based Customization


Included

---

Web Port


Included

---

Personal Views


Included

---

Document Workspace Sites


Included

---

Document Collaboration


Included

---

Email, Phone & Livechat


Included
Enterprise
No. of Users


50

---

Monthly Data Transfer


250GB

---

Disk Space


10GB

---

Full Text Indexing


Included

---

.Net Framework 3.5


Included

---

Browser Based Customization


Included

---

Web Port


Included

---

Personal Views


Included

---

Document Workspace Sites


Included

---

Document Collaboration


Included

---

Email, Phone & Livechat


Included
Advanced
Ultimate
No. of Users


100

---

Monthly Data Transfer


500GB

---

Disk Space


25GB

---

Full Text Indexing


Included

---

.Net Framework 3.5


Included

---

Browser Based Customization


Included

---

Web Port


Included

---

Personal Views


Included

---

Document Workspace Sites


Included

---

Document Collaboration


Included

---

Email, Phone & Livechat


Included
Microsoft SharePoint Server Plans Includes:
Our Hosted SharePoint service provides you with the following functionality:
Highly Available SharePoint Farm
2GB SharePoint Space
Single Primary SharePoint Site
Unlimited Sub-sites
Unlimited Bandwidth
Unlimited Document Upload Size
SQL 2008 Backend Databases
Site Administrator Access
Vanity Domain
SSL Encryption
Forefront for SharePoint 2019 (Security)
Nightly Backup